I recently wrote a 'DIY guide to Impact Measurement' for the One Planet Lab, an initiative of WWF Switzerland.
The One Planet Lab is a think-do tank that provides support for people wanting to create new environmental sustainability projects. They commissioned the guide as the first of a series on different project management and development topics.
This is an introduction to the topic of impact measurement, intended for use by anyone who is completely new to the topic, and curious to know more about the concept, terminology and process of impact measurement.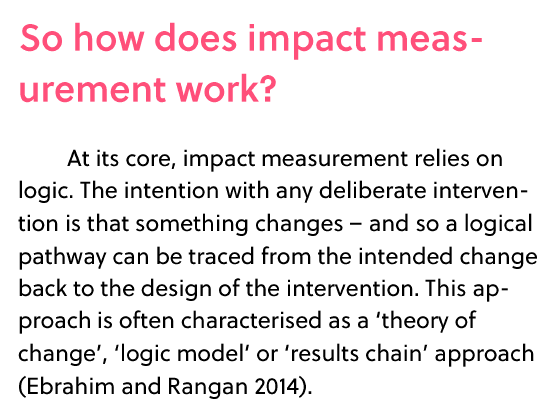 The guide covers a range of the theoretical and practical elements involved in impact measurement: theory of change, definitions of impact, indicators, etc., plus a short excursion into the future of impact measurement, and the differences in the language and expectations of the term 'impact measurement' in different sectors.
Even better, it is available in English, German and French!
You can download the guide here: https://www.one-planet-lab.ch/wirkungsmessung-leitfaden
Habe noch selten eine derart konzise Zusammenfassung der Wirkungsthematik in nachvollziehbarer und direkt in die Praxis umsetzbarer Form gesehen – Chapeau!